Liv Morgan



Gionna Daddio (né(e) à Paramus, New Jersey) est une catcheuse. Il signe à l'Empire State Federation sous le nom de Liv Morgan avec un alignement Heel et un style de combat tourné vers le High-Flying.



Sommaire


1. Carrière
1.1 Gimmick
2. Caractéristiques
3. Vie Privée




Carrière



Liv Morgan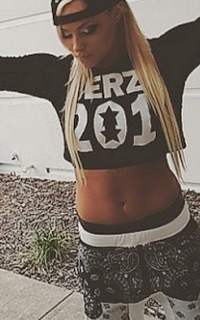 Données Générales

Nom complet : Gionna Daddio
Nom de ring : Liv Morgan
Provenance : Paramus, New Jersey
Taille : 1.60 m
Poids : 53 kg


Catcheur en activité

Fédérations : World Wrestling Entertainment.
Sur les rings depuis : 2015

Gionna Daddio ou plutôt Liv Morgan est une jeune lutteuse qui etait à la NXT mais pour elle elle était comme une jobbeuse ne montrant pas son talent au monde entier mais un jour Liv en avais marre et décide d'aller dans une autre fédération où là bas elle pourra enfin montrer au monde entier son vrai talent dans le ring. Liv est une lutteuse arrogante manipulatrice et sûre d'elle prête à tout pour monter au sommet de la fédération.  
Caractéristiques
FINISHERS UTILISES
▬ Jersey 201 (Reverse roundhouse kick)
COUPS SIGNATURE
▬  Back handspring tilt-a-whirl headscissors takedown
Leg-feed enzuigiri
Running two-handed bulldog
Guillotine choke
Jackknife hold
Matrix evasion
Monkey flip
Single leg dropkick
Sitout hip toss
SURNOMS DONNES
▬ The Princess Of New Jersey
THEME SONG
▬
https://m.youtube.com/watch?v=Szjx67TSX1w
Vie Privée
On me connait sous le pseudo de
Marisme/Marou
, j'ai
22 ans
ans et je viens de
chez moi
. J'estime mon niveau en speech à  
4,5
/10 et c'est pour ça que je souhaiterai aller en
activité
. J'ai connu le forum grâce à
ma femme adorée
. J'ai lu et approuvé le règlement !